A

s

s

a

l

a m

u

a

l

a i k

u

m

Hey there,

i guess its been a while ... again "
well I'm too busy,

i don't have time to update this blog.
right now, i am at Fine Art Studio part5,
i was doing some editing for my final presentation,
its a final idea actually.

gosh it is so tiring, and I'm hungry , heheh.
ice cool is sleeping in front of me right now,
well his tired from doing some sketch or something
and didn't even sleep at all
i told him to sleep, but.. he never listen...
and now, his body is to weak to stay healthy sometimes ...

Gosh... he should have listen to me...
sometimes he angry saying that,

I'm not the only one who have to follow what you said,
you must follow what i say, I'm worried too..
like hello....

i know how to take of my self,
unlike you, making your self weaker and weaker,
i know this is final year is busy,

does not mean that, you have to work hard and forgot to sleep,
i mean you can be crazy, and weaker and unhealthy
if you keep on going like this.
human are meant to sleep in day night...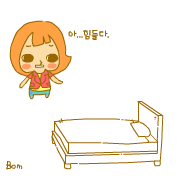 what ever...
i was actually babbling around..
do not know what to update actually ...
but at least i finally updated "

hmm, we actually have not enough time,
I'm afraid tha I'm not going to produce a good painting.
what am i going to do now.
oh well.. i just gonna work hard and pray, may Allah bless me..

that's all for now i guess,
update soon

tata ~